National Lifeguard Waterfront and Surf Option Combination Course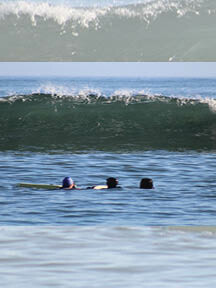 Hooksum Outdoor School is a unique and magical location in traditional Hesquiaht First Nation territories on the mid-west coast of Vancouver Island. We are proud to be the only Lifesaving Society of BC affiliate to offer the NL Waterfront and Surf Option Combination course.  The Hooksum course runs once a year – every June. It is truly an unforgettable adventure and learning experience in one of the most beautiful places on the planet. It is a rare opportunity to hone your lifeguarding and leadership skills with world class instruction in a world class place.
Dates: June 14 – 19, 2019
Time: Afternoon of June 14th until noon on June 19th (You will be given exact times well in advance of the course start date)
Location: Hooksum Outdoor School, Hesquiat Harbour, Tofino, BC (Vancouver Island) Hooksum Outdoor School is accessible only by boat or float plane. We are "off the grid" here so there is no electricity, there is no cell phone coverage, and there is no running water. There are no stores. Any items you need for the duration of the course - bring them with you on June 14th. 
All course activities will take place in the Hooksum longhouse, on the beaches, and in the open Pacific.
Cost: $940 includes:
Return water taxi travel from Tofino to Hooksum (about an hour and a half trip each way)
5 nights/6 days accommodation in Hooksum's Longhouse (bring sleeping bags and sleeping mats / tents are optional)
All food and prepared meals
Course materials and candidate fees
On-site boat transportation within Hesquiat Harbour
Instructor:  Danny Burgi.  Danny has over 20 years of experience teaching lifeguarding.  He is the father of four, an endurance triathlete, and a professional firefighter. He is also a Director of the Lifesaving Society of BC and the Yukon.
Equipment:  Candidates need to bring:
Wetsuit with booties and gloves (ensure that your wetsuit is warm enough to spend longer stretches of time in the open Pacific) Note: If you are stuck for a wetsuit, Hooksum Outdoor School has suits that you can borrow here.
Alert manual
Pocket mask and whistle
Sleeping bag and sleeping mat
Personal clothing (warm jacket, fleeces, raincoat are recommended)
Optional Equipment:
Snorkels, masks and fins
Surf boards
Food:  All food and hearty meals are provided for the duration of the course.  Please mention any food allergies and/or dietary requirements on the Application Form so that we can meet your needs.
Accommodation:  Accommodation is in the Hooksum Longhouse.  The Longhouse is a large open building with a central fireplace.  If you prefer more privacy, please bring your own tent.  There are plenty of good camping spots nearby.
Applications:  Application forms and payment can be mailed or sent electronically to:
Hooksum Outdoor School,  Attn: Karen Charleson,
PO Box 352, Tofino, BC. V0R 2Z0                               
Questions:  If you have any questions about the course or Hooksum Outdoor School, contact Karen Charleson at info@hooksumschool.com
For more information and photos: Visit the Hooksum website at: www.hooksumschool.com 
Hooksum Outdoor School also has two pages on Facebook: 1) Hooksum Outdoor School, and 2) National Lifeguard Waterfront/Surf Option Course at Hooksum