Canada's Barbara Costache A Candidate For ILS Secretary General in 2021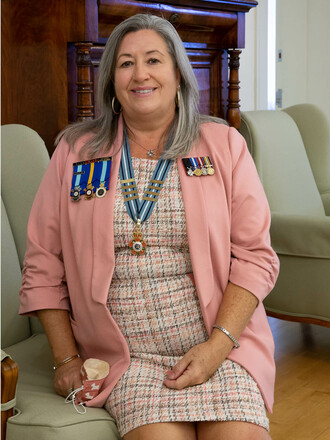 Lifesaving Society Canada is pleased to announce that Barb Costache from Alberta is running as a candidate for the position ILS Secretary General. Barb formally submitted her application form on December 15, 2020.
Barb most recently served in a professional capacity as Chief Administrative Officer of the Lifesaving Society Alberta and Northwest Territories from 1998 – 2018. During her 20-year tenure, working with a team of dedicated staff and volunteers, the branch increased membership from 14,000 to over 250,000. Increased its budget envelope from $400,000 to over $1.6 million, increased its full-time staff compliment from 4 to15, and implemented major new program streams, like Swim to Survive and Swim for Life Lifesaving First Aid and Safety management. She currently serves on seven boards. She has extensive exposure to lifesaving worldwide, including serving as a technical official and attending key conferences.
Barb is a dynamic, solution and results oriented professional with a strong understanding of strategic planning, board governance, policy, and organizational development, in the charitable and municipal sectors. She has over thirty-five years of experience in community, provincial, national and international organizational stewardship as a staff and volunteer. She is a visionary leader and strategic thinker, with an innovative spirit to develop relationships and build teams to meet the current and future needs of the organization and members. She is exceptionally well organized, brings strong communication skills, along with a proven ability to analyze and identify challenges and successfully implement solutions for change, opportunity and value.
"I believe in unlimited potential and personal accountability for all and achieving this through loyalty, transparency and accountability."
Working with teams of dynamic and skilled staff and volunteers Barb has successfully provided stewardship and facilitation for organizational change and development. Barb's expertise and passion are board policy governance and organizational strategic thinking, which are the foundation of providing proactive leadership and management to ensure the organization has public trust and member confidence.
B. Chris Brewster, long-time president of the Americas Region of the International Life Saving Federation, said, "I encouraged Barb to run for this position and heartily endorse her candidacy. She will be a breath of fresh air, bringing about positive change to help the ILS achieve its key goals at a crucial moment in our history."
Please feel free to contact Barb directly if you would like more details on her candidacy. Contact Barb via email at barbc@lifesaving.org and follow www.barbcostache.ca for further information and updates.