2020 Northern Canada Drowning Report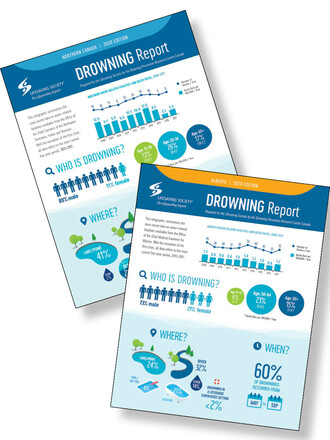 The
2020 Drowning Report for Northern Canada
 is now available on the Lifesaving Society website. Members will find that drownings increased slightly in 2017 compared with 2016 but are still lower than annual figures reported in 2008 through 2015.
What should also be highlighted is that there have been no fatal drownings at any pool supervised by National Lifeguards in the North over the reported period 2013-2017.
While this is a positive development for supervised aquatic facilities, it is also important to consider how we can expand water safety, and Water Smart behaviours at our lakes, ponds, and rivers. The 2020 report shows that 78 percent of fatal drownings take place in those unsupervised areas.
An area of great concern is that all young adults (ages 18-34) who were involved in a fatal drowning, were not wearing a lifejacket.
Encouraging the use of a lifejacket when participating in activities such as boating, fishing, and canoeing plays an important role in reducing water-related injury and death in the North.
This report, developed by the Drowning Prevention Research Centre for the Lifesaving Society, encompasses drowning data from the Office of the Chief Coroner for the Northwest Territories, Yukon, and Nunavut. The data presented in this report reflects a period of 2008-2017.