WE'RE HIRING!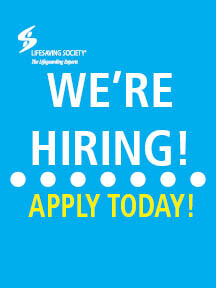 The Lifesaving Society Alberta and the Northwest Territories Branch is seeking an experienced individual who can manage and implement Society safety management programs and services. Exciting opportunities exist for development and promotion of new aquatic safety programs and services to meet the growing demand by the public and members for Society expertise and service and optimal safety for the aquatic industry.
This is a new position within the Branch operations that requires a competent approach to planning and management to assure that standards, attention to detail, quality assurance, consistency and timelines are met.
Responsibilities include: occupational and professional training programs and services; consultation and audits; facility design; pool operations; lifeguard systems; standards for education, training and Society positions and publications.
Excellent verbal and written English skills are required along with a high level of customer service and interpersonal skills. Considerable knowledge of the aquatic industry is required.
The Standards and Safety Manager will work with the Executive Director, and staff team to achieve the strategic direction of the Society for a Canada Free from Drowning and Water Related Injury.