2021 Price List Released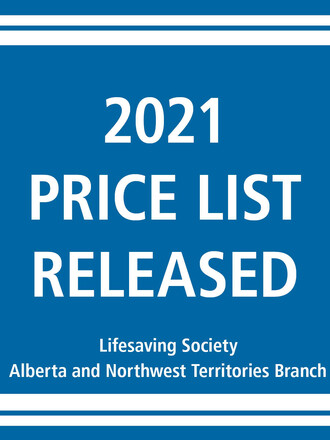 In consideration of the economic climate due to the COVID-19 pandemic, there were no price increases in 2020 to program exam fees, recognition materials, or literature. 
Throughout 2020 the Lifesaving Society experienced a significant decline in program revenue as facilities were ordered to close between March and June 2020. Even after facilities were permitted to reopen, many have not, and programming remains at minimal level. As 2020 comes to an end, we are reminded of the impact COVID-19 continues to have on program delivery as many programs are once again paused or cancelled. In addition to significant decreases in revenue, the demand for Society consultation, support and guidance has never been higher, putting additional strain on our limited resources.  As such, it became clear that we needed to make an adjustment to our funding model. 
Affiliate Model changes: 
Individual Affiliate Delivery Partners: These individuals are authorized to deliver Lifesaving Society programs in accordance with the current Policies and Procedures. These affiliates are not permitted to employ additional instructors or have them deliver courses under their affiliation. . 
Associate Affiliate Delivery Partners: These affiliate delivery partners are often corporations. They do not own or operate an aquatic facility. They are permitted to utilize multiple instructors who are employees or under contract of the organization to deliver Lifesaving Society programs in accordance with the current Policies and Procedures. 
Aquatic Affiliate Delivery Partners: These affiliate delivery partners own or operate one or more aquatic facilities.  The annual fee is based on the following number of Aquatic Facilities the affiliate owns or operates: 

One Aquatic Facility 
Two to Five Aquatic Facilities 
Six to Ten Aquatic Facilities 
Eleven or More Aquatic Facilities 

BOAT Affiliate Delivery Partners: These affiliate delivery partners are only permitted to offer the BOAT course and Pleasure Craft Operator (PCO) examinations in accordance with the current Policies and Procedures. They are not permitted to offer or deliver any other Lifesaving Society courses or programs.  
Corresponding Partner: These are partner organizations that want to remain connected to the Lifesaving Society by receiving our communications, they are entitled to post jobs on the website and purchase advertising with the Society in newsletters. They are not permitted to offer or deliver any other Lifesaving Society courses or programs. This category of of affiliation does not come with voting rights.  
The Lifesaving Society's 2021 Price List is now available to Affiliate Delivery Partners and can be downloaded from the Members Section of the website under the Affiliate Toolkit. We are giving 30 days' notice to the price changes, and new pricing will go into effect on January 4, 2021.  
While these changes will not immediately resolve the financial difficulties of this year, they will assist the Society in continuing to provide advice, support, resources, and leadership in the future. It is expected to take a number of years to fully recover from this public health emergency and these adjustments are a good first step. 
Highlights from the 2021 Price List 
In addition to the updated fees and affiliate pricing model, here is a brief overview of other changes to the 2021 Price List: 
Changes

Only training program certifications, materials, and recognition items are included. Equipment and apparel have been removed as this pricing is subject to frequent change from our suppliers and is updated at various times throughout the year. We encourage you to visit out online store at shop.lifesaving.org to find the most recent products and pricing. 
Order forms have been removed as a result of their decreased use and increased direct orders through the online store 

Registered Athlete Fees were increased significantly as a result of a mandatory Sport Levy that was imposed on Lifesaving Society Branches by the Lifesaving Society Canada. 
Distribution of Medals for the Bronze Programs: 

For Bronze Medal courses (Bronze Star, Bronze Medallion, and Bronze Cross) offered after January 1, 2021 medals will not be included with their certification card. 
Affiliate Delivery Partners will be required to order Bronze Star, Medallion, and Cross medals in advance of courses and distribute to candidates immediately following completion of the course, allowing for instant recognition. These medals can now be ordered in packages of 20 for a bulk discount. 

New Additions: 

Grade 3 Be Water Smart Program (Teacher Delivery Guide, Student Workbook, Certificate, Be Water Smart Tattoo) 
Lifesaving Society Membership Card (More on this will be shared soon) 

Program Retirement 

The Skin-Diving program has been retired 
Swim for Life License Fee 
Effective January 1, 2020 the Swim for Life License fee that is charged to swim sites will be eliminated. Affiliate Delivery Partners will have the right to offer the full Lifesaving Society program continuum at no additional cost if recognition materials (progress cards and ribbons) are purchased through the Society. For those organizations that produce their own recognition materials and do not purchase their recognition materials from the Society, there will be a new brand licensing fee. More information on this change will be sent directly to existing Swim for Life sites. 
Thank You For Your Continued Support and Commitment 
We recognize that this year has been challenging on everyone and we thank you for your ongoing support of our humanitarian mandate to prevent drowning and water-related injury through training programs, Water Smart public education, drowning research, safety management services, and lifesaving sport.  
If you have any questions or require clarification on any of the changes outlined above, please contact us as 780-415-1755 or 
experts@lifesaving.org
.