Spring Ice is NOT Safe!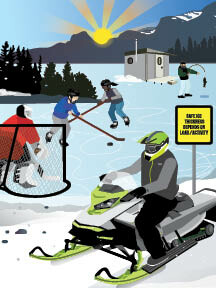 Ice surfaces are not safe as spring arrives. Warmer temperatures and melting water create unstable ice surfaces. Remember that no ice is without risk. Please stay off the ice!
Many factors affect ice thickness including the type of water, location and time of year. Other environmental factors also affect ice thickness such as size and depth of the body of water; moving water (i.e. currents, drainage, runoff); snow cover; chemicals such as salt; fluctuations in water levels; logs, rocks and docks absorbing heat from the sun; changing air temperature and shock waves from vehicles traveling on the ice.
There are many layers of protection to help protect against drowning and water­ related injury at any time of year. Be Ice and Water Smart®.
Spring Ice is Rotten Ice
Stop using the ice once spring thaws begin. Even if ice measures at the right thickness (minimum 10 cm or 4 inches for walking or skating alone), candling during melting weakens it vertically. The ice can no longer be trusted.
Use Designated Ice Surfaces
Many communities have designated ponds for activities such as skating that are maintained by knowledgeable personnel. Designated ice should be regularly tested to ensure that it is thick enough and strong enough for recreational use.
Never Go onto Ice Alone
A buddy may be able to rescue you, or go for help if you get into difficulty. Before you leave shore, tell someone where you are going and expected time of return.
Always Supervise Children
Children should always be under adult supervision when in, on and around water and ice. Children that aren't within arm's reach have ventured too far. Insist that they wear a lifejacket/PFD or thermal protection buoyant suit.
Ice Rescue
Rescuing another person from the ice can be dangerous. The safest way to perform a rescue is from the shore. If you see someone in trouble, call 911.