Registration is Now Open for Our Fall 2023 Trainer Course!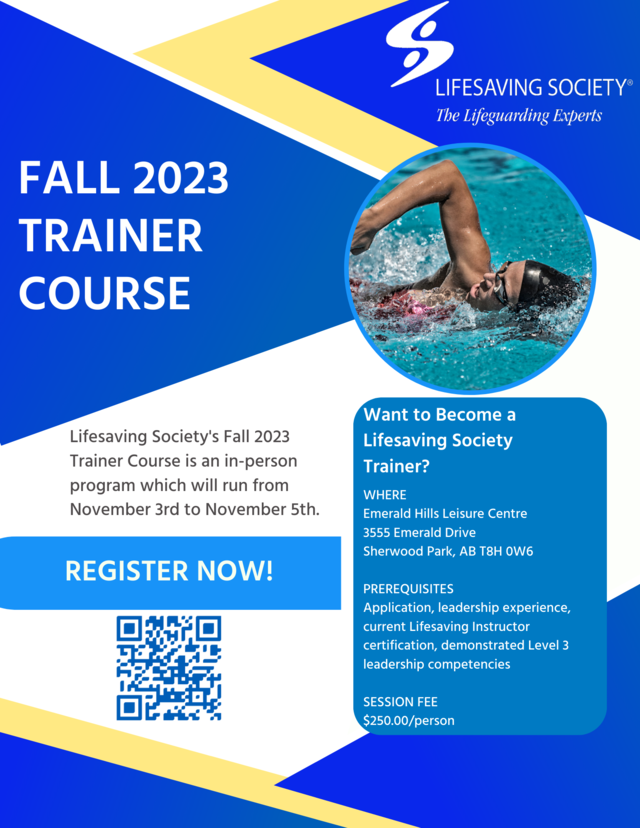 We're excited to announce that registration has just opened for the Lifesaving Society's Trainer Course this November!
This in-person course prepares candidates to teach and evaluate the Society's leadership programs. We encourage anyone with an interest in becoming a Lifesaving Society Trainer to sign up.
This program runs from November 3rd to November 5th, and classes will take place at the Emerald Hills Leisure Centre in Sherwood Park.
During this 20-hour course, candidates will learn the program model design, the competency based leadership model, course planning, evaluation of instructor candidates, and how to facilitate peer teaching presentations and provide instructor candidate feedback.
Session Fee: $250.00/person
Please note that this session fee includes the course materials and the certification fee.
Location
Prerequisites
Date/Time

Emerald Hills Leisure Centre

3555 Emerald Drive

Sherwood Park, AB T8H 0W6

 

Room: Ammolite Room

Application to the Society
Current Lifesaving Instructor certification
Demonstrated Level 3 Leadership Competencies
Leadership experience

November 3rd (Fri)

5:00 PM - 9:00 PM

 

November 4th (Sat)

9:00 AM - 5:00 PM

 

November 5th (Sun)

9:00 AM - 5:00 PM
Following completion of the Trainer Course, successful candidates will complete an apprenticeship in the leadership program streams in which they hold the prerequisites.
To register for the course, scan the QR code in the above image or visit the sign-up page.
If you have questions or require support, please contact us at Experts@LifeSaving.org or 780-415-1755.