National Drowning Prevention Week Reminders!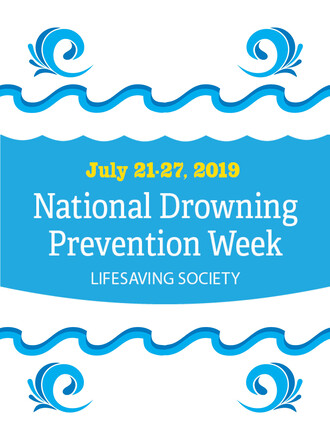 This is a friendly reminder that National Drowning Prevention Week takes place July 21-27!  
The Lifesaving Society designates the third week in July as National Drowning Prevention Week (NDPW) to focus community and media attention on the drowning problem and drowning prevention.
The Social Media Plan contains daily themes and key messages targeted to address trends seen in Lifesaving Society drowning reports and the data from the Drowning Prevention Research Centre. The key messages can be used on social media to promote safe behaviors while in, on and around water.
National Drowning Prevention Week campaign photos correspond to the key themes and messages outlined in the social media plan. There are three campaign photos for each day of NDPW that will be released on July 19 before the start of National Drowning Prevention Week in the Affiliate Only Toolkit. We ask that you please post the campaign photos associated with the daily theme to ensure consistency of messaging and strength of the campaign. You are welcome to also share the campaign photos we post or post your own photos during NDPW.
Please include the #NDPW2019 hashtag in the posts and be sure to tag us @lifesavingsocietyabnwt (Instagram) and @lifesavingabnwt (Facebook, Twitter and Snapchat).
New for this year, try out our National Drowning Prevention Week Facebook profile picture frame and tag us in your photo!
If you require Water Smart® Materials or suggestions for how you can support National Drowning Prevention Week please contact the Lifesaving Society at (780) 415-1755 or email experts@lifesaving.org.
NDPW Flag Raising Ceremony
This is a reminder that you are invited to join us for a special National Drowning Prevention Week flag raising ceremony at the Homeless Memorial Plaza (located just North of Edmonton City Hall) on Monday, July 22 at 10:00 am. The City of Edmonton will display the National Drowning Prevention Week flag on the community flag pole at the Homeless Memorial Plaza for the duration of the week.
We are also pleased to announce that Her Honour, the Honourable Lois E. Mitchell, CM, AOE, LLD, Lieutenant Governor of Alberta will be in attendance for the event.